It seems like I only ever have time to post that I am too busy to post. I am too busy. Way too fucking busy.

So guess what - the universe stepped in and gave me this thing. This bizarre thing. Called labyrinthitis. http://www.labyrinthitis.org.uk/index.htm I am on my second episode (the first one never clearing up 100%) in 6 weeks. It is bizarre bizarre bizarre.

And it comes at such a strange time. My article was just published, my classes are taking off and I am starting to take on doula clients. I have also been working full time at the bookstore, which I love, but it is not my life's work. kwim? I haven't been able to work for a week now since I got the latest dizzy episode. I am still insanely dizzy today. It is the weirdest shit I am telling you.

So the doctor says "take it easy". And I say, "ummm, yeah, I will get right on that..." Take it easy? Not one of my strong suits lets just say. If I can do one thing, I figure I can do something else too, right? At times I really do believe that our ability is limited only by our dream.

And then this dizzy shit comes along and knocks my superwoman routine on its ass.

I am quitting the bookstore. I need to have all my energy and health for me and my family. For my life. The bookstore is fun. I enjoy it, but at the end of the day I am exhausted. It is time for me to face it that I am not the young thang I once was. Far from old, but not twentysomething. This will be my last year as thritysomething. Rest, relaxation, and renewal are important all during ones life. Something I am only beginning to understand. Without guilt. My full energy can go to being mom, doula, childbirth mentor, artist. We are at a place where I am able to go forward with my part of the big adventure. Facing huge unknown, putting my full intention into living as I am compelled to. Trusting like I have never trusted before. Hoping that the world stops spinning (literally) and I am coping with how it spinning right now. Nothing like living a metaphor.

Reading some mind blowing books right now... Blue Truth by David Deida (a.m.a.z.i.n.g. book), The Tao of Mentoring by some guys whose name I will butcher if I try to spell by memory, Sacred Contracts by Caroline Myss, My Voice Will Go With You by Milton Erickson and Sydney Rosen. Close To The Bone by Jean Shinoda Bolen. Reading, reading, reading.

Been knitting a bit and got some sewing done yesterday. Knitting is actually, of all crazy things, therapeutic for my labyrinthitis. I think it puts me in a trance.

I made this scarf...

It is 4ply wool sock yarn lace and a chunky hand spun, hand dyed contrast. It knit up so fast - less than 2 hours.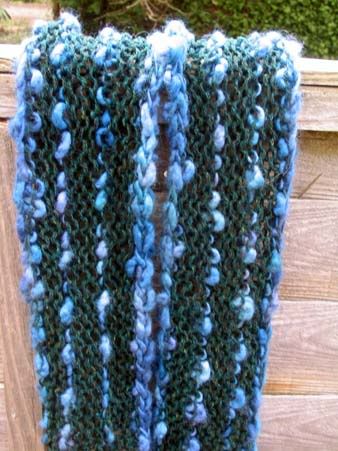 Here I am on the train home from London earlier this week wearing the hat I made to go with the scarf. I am all rock starred out in my shades at night because they keep the visual stimulation (and the swirl) at a minimum. That and I am just cool.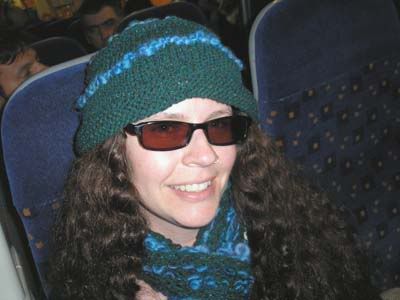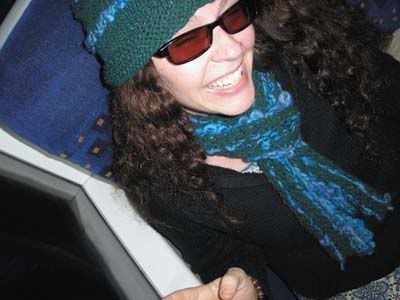 And this one is a joke. Dylan and her friend from Not Back To School Camp in Oregon is visiting so we went to do the touristy bits in London. We had a riot pointing out all the varieties of "emo" people we saw. We started giving them names...JapanEmo, HanibalEmo, ElderEmo, and

MomEmo!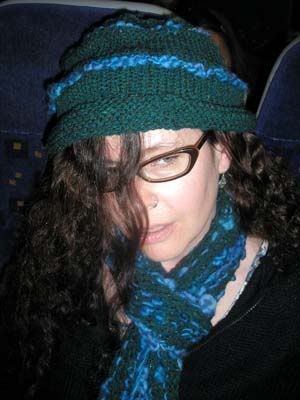 Joke people. Joke.